The Pocket Greenhaven Community Association's featured business is A Taste Above, join us as we get to know its co-owner and manager Rich Wong: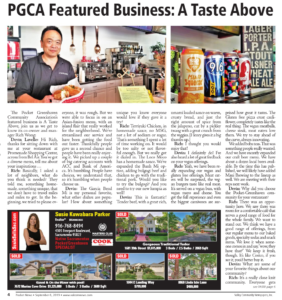 Devin: Hi Rich, thanks for sitting down with me at your restaurant at Promenade Shopping Center, across from Bel Air. You've got a diverse menu, tell me about your inspirations …
Rich: Basically, I asked a lot of neighbors, what do you think is needed? They told me, something homemade, something unique, that we don't have to travel miles and miles to get. In the beginning, we tried to please everyone, it was rough. But we were able to focus in on an Asian-fusion menu, with an island flair that really worked for the neighborhood. We've streamlined our service and have been getting the food out faster. Thankfully people gave us a second chance and people have been really enjoying it. We picked up a couple of big catering accounts with ACC and Bank of America. It's humbling. People have choices, we understand that, so it's humbling when people choose us.
Devin: The Garcia Bend Mi is my personal favorite, what other dishes are popular? How about something unique you know everyone would love if they gave it a try?
Read more at Pocket News …