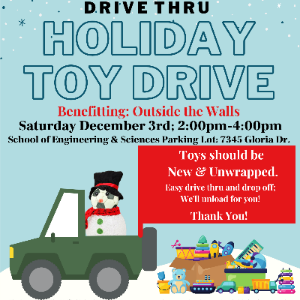 Holiday Toy Drive Returning on December 3rd
The Greenhaven Soccer Club and City Council member Rick Jennings are proud to announce that they are once again hosting their annual holiday toy drive, benefitting Outside the Walls.
Where: Parking lot of the School of Engineering and Sciences, 7345 Gloria Drive
When: December 3, 2022 from 2:00 p.m. to 4:00 p.m.
Bring new and unwrapped toys to donate at the convenient drive through drop off, where volunteers will help you unload your donation. Last year, approximately 1,100 toys were collected.

Outside the Walls (OTW) is a 501(c)3, dedicated to breaking the cycle of poverty, domestic violence, food insecurity and incarceration. OTW works with at risk youth and families; providing a wide variety of counseling services, as well as parenting classes, job training and a food/household item pantry. They serve families in a large geographic region, including our area.